Beach the Box Way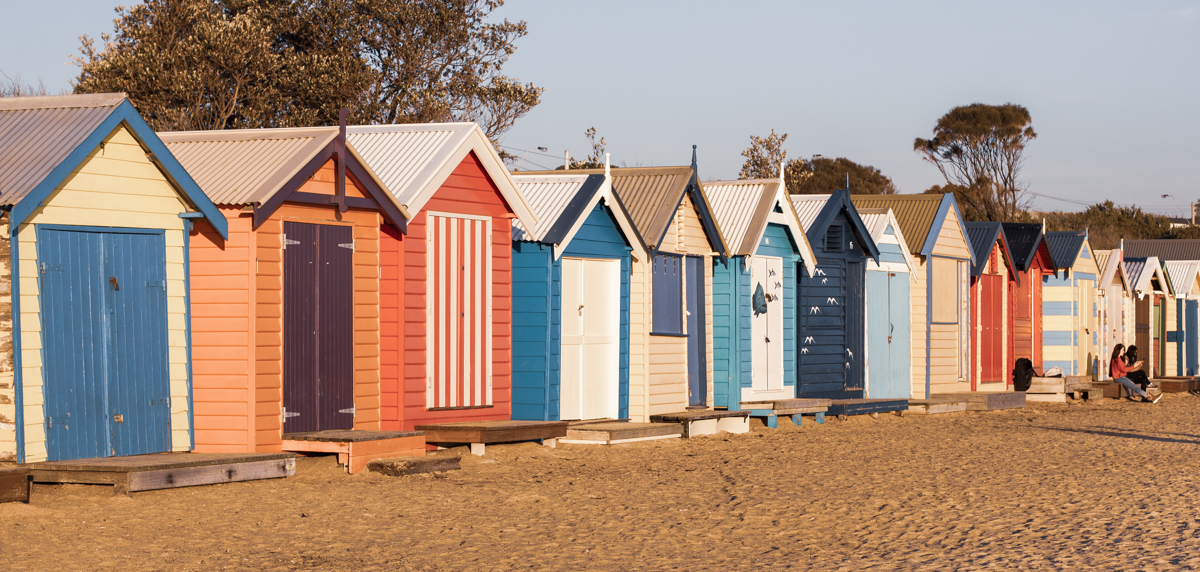 A Unique Scene
Dendy Street Beach is certainly a special place.  Facing the water with your toes in the soft sand, it seems like any other nice beach with a peaceful atmosphere and westward facing shores.  Turn around, though, and you will see quite an exceptional sight: a row of 82 charming beach boxes precisely lined up around the bay.
For tourists and Melbourne residents, the Brighton Bathing Boxes are in a prime location, as the colorful huts on Dendy Street Beach sit less than a 30-minute drive from the central business district.  Perhaps take a quick trip to escape the hustle and bustle of Melbourne and enjoy the artsy, peaceful nature of the suburban Brighton waterfront.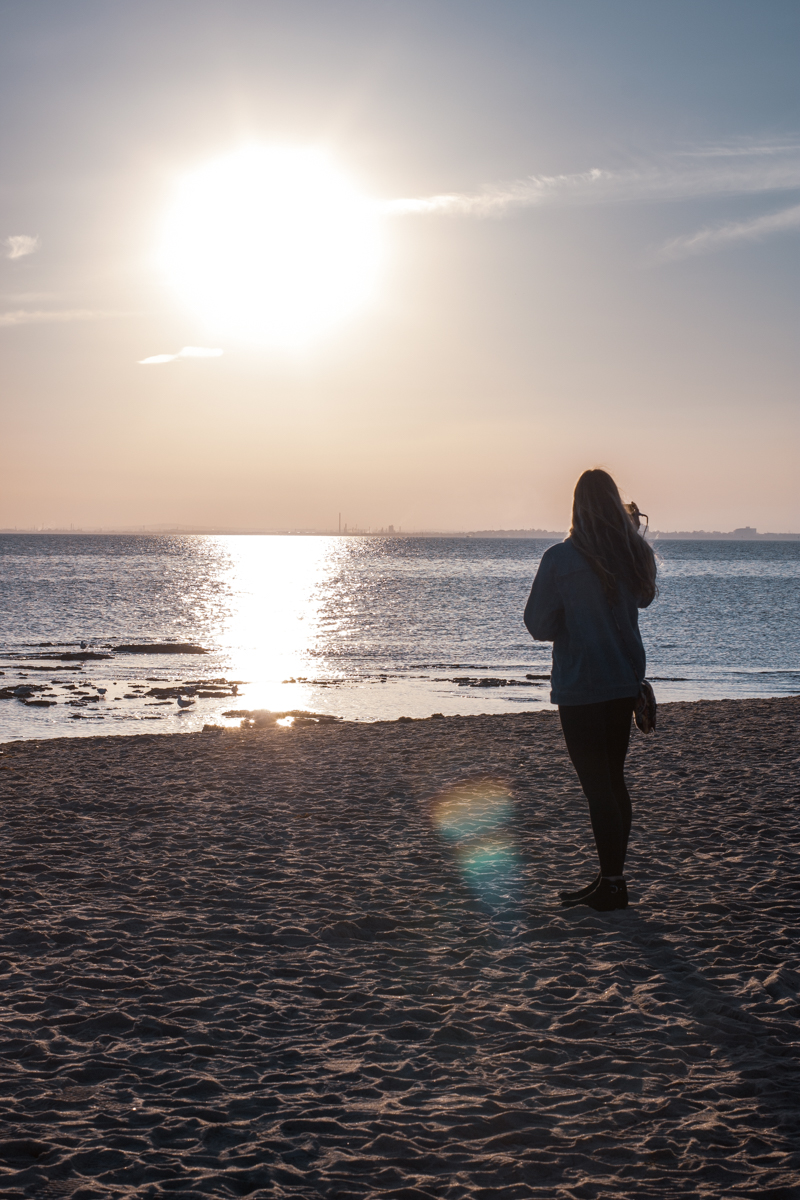 Micayla Yates, an American visiting Melbourne for the first time, did just that.  She described the experience as beautiful, and she "loved all the different artwork and how each hut was different.  It really encompasses the diversity of Australia," she said.  From cute smiling crabs to rainbow striped panels, every box has a special paint job.  
Some more interesting boxes along the beach
Huts with History
The quaint beach huts also have quite an interesting history.  Bathing boxes became popular during the late 19th century and the early 20th century, and construction of the structures climaxed around 1910.  When the Great Depression hit, challenges arose.  In an effort to create more jobs, most beach boxes were relocated and aggregated along Dendy Street Beach in 1934.  This was done to make room so a new promenade could be built, and the huts were conveniently placed next to the Brighton Life Saving Club (BLSC) clubhouse, which was later destroyed in a fire and rebuilt.
More challenges arose in the decades that followed.  Natural disasters demolished many of the shacks and swept some out to sea.  Can you imagine a colorful, broken beach hut bobbing in stormy waters?  Governmental attempts to tear them down also occurred.  Luckily, the Brighton Bathing Box Association fought on behalf of the treasured structures. 
In 1999, the Brighton boxes, along with many other properties and landscape features, were placed on a heritage list.  Now, the fun yet historical huts are protected.  The Brighton Bathing Boxes along Dendy Street Beach are the only huts of their kind left in Port Phillips Bay, but they have become a wonderful tourist destination.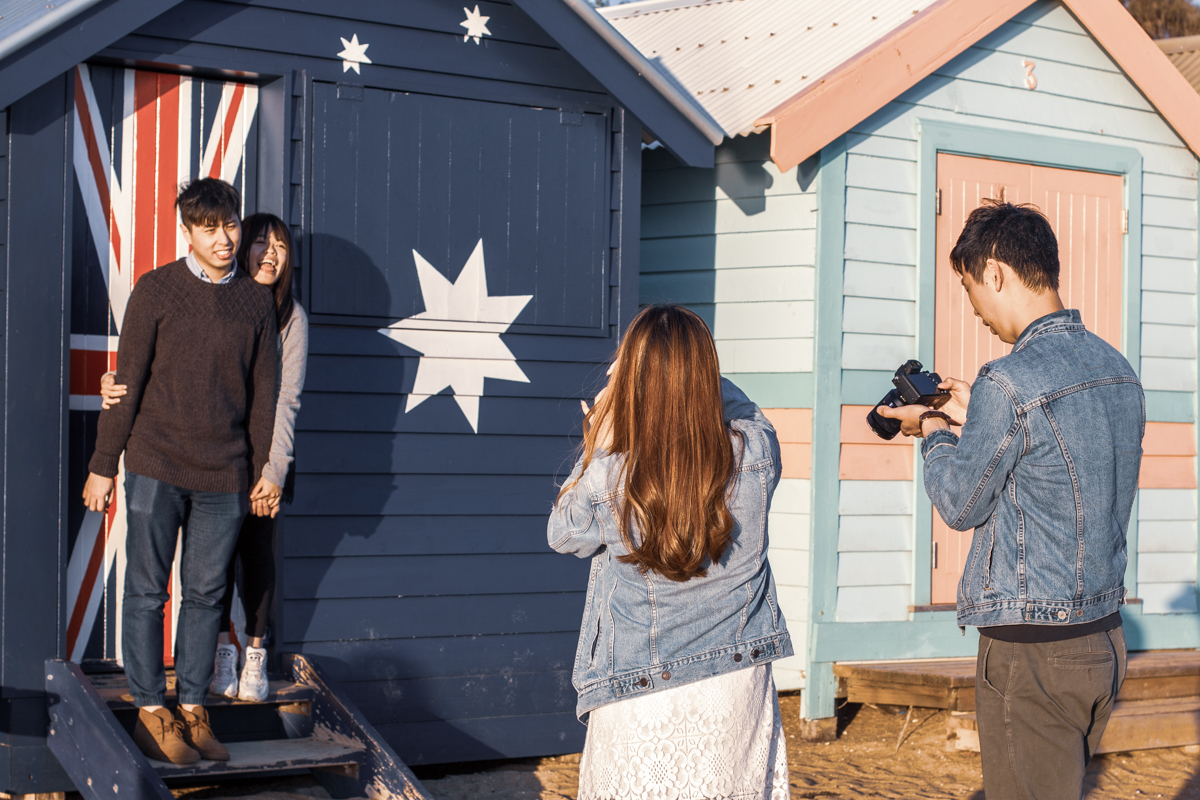 Form and Function
The boxes encompass several common aspects of Victorian architecture, which matches many of the historical homes and buildings in the area.  The walls and raised floor are made of timber, and the roofs are constructed with corrugated iron covered in layers of paint.  Their unique yet simple structures and vibrant exteriors set them apart from any other architecture you may find nearby.
Interestingly enough, all of the bathing boxes are the exact same form, thanks to construction guidelines set.  In fact, each bathing box is 2.4 meters long, 2 meters wide, and 2 meters tall with a roof pitch of 35 degrees.  There are also rules regarding the exterior paint job, which provides a harmonized aesthetic for those looking down the line of bathing boxes.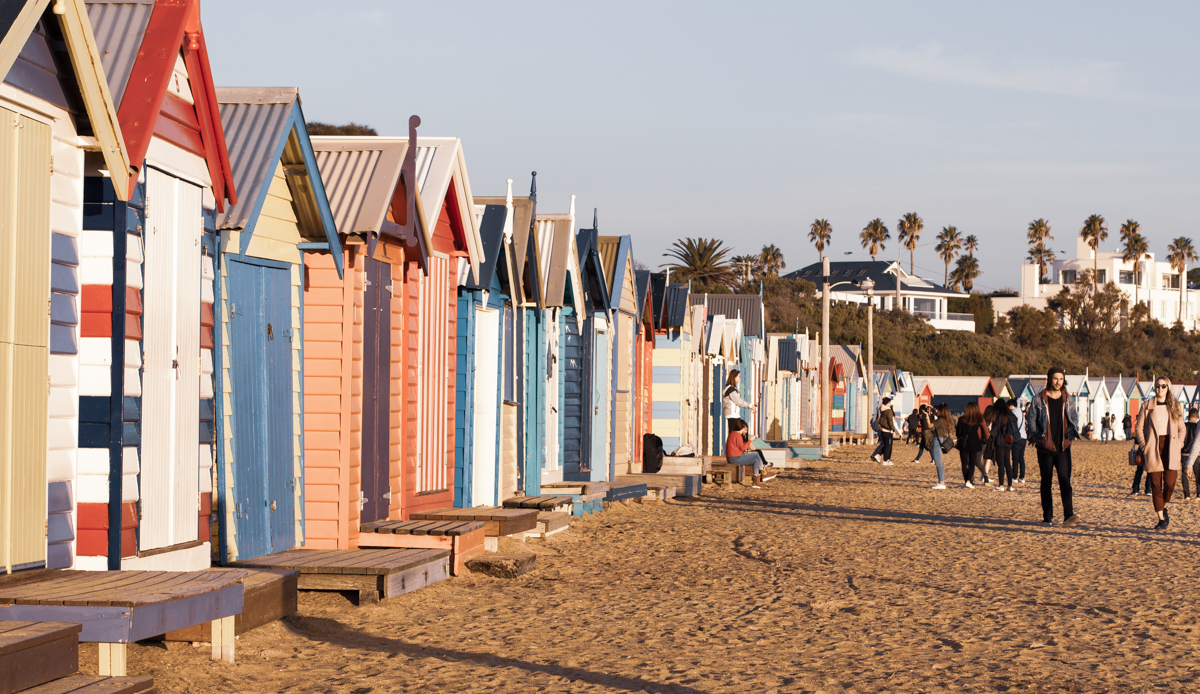 What's Inside?
You may be curious to find out what the boxes are used for.  It turns out, each beach box is privately owned, and it is up to the owner to decide!  Unfortunately, the boxes are not equipped with electricity or running water, and they are essentially just a cute little shed on the beach. 
Therefore, most people use them as a relaxing oasis to comfortably enjoy the beach or store beach related items inside.  I was fortunate enough to talk to one owner, James Ryan, who let us check out his blue and yellow beach box's interior.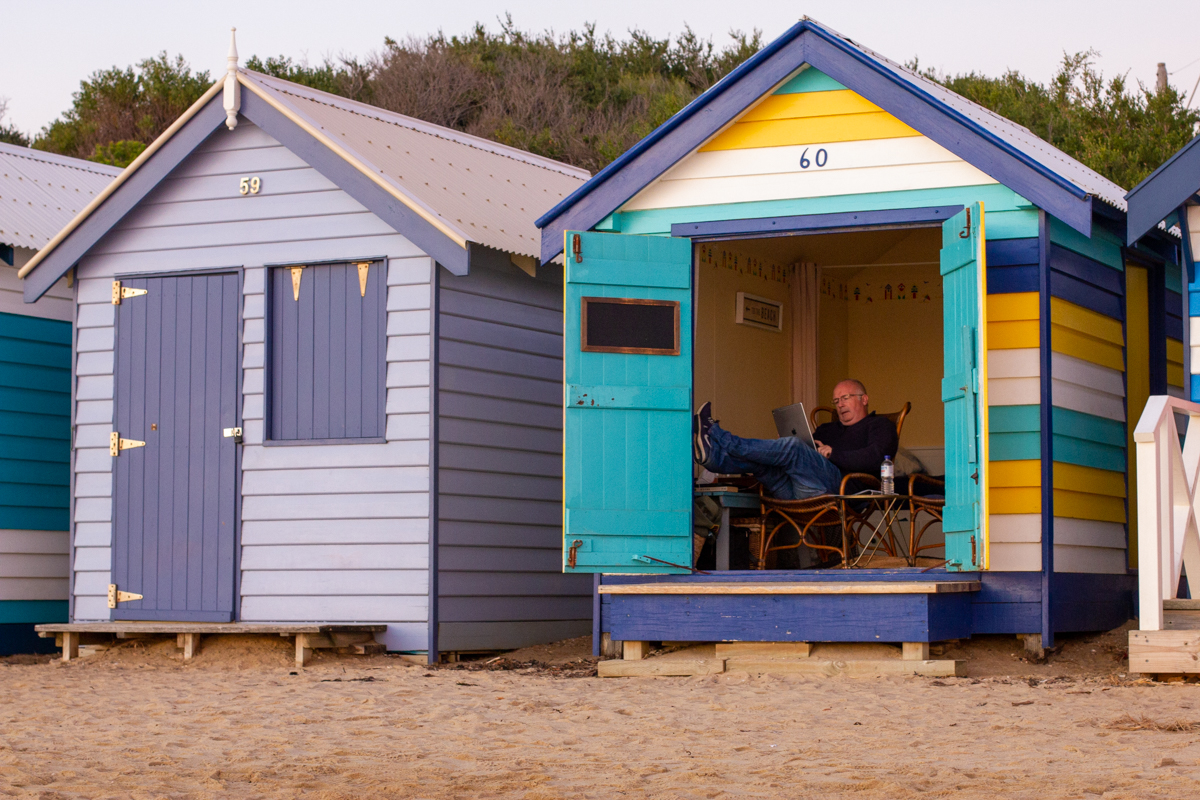 When we walked up, he was lounging comfortably in a rattan cushioned chair, reading off his very oversized tablet with 5 Seconds of Summer playing in the background.  The humble space included a shelf with plenty of reading material, a bit of nautical themed décor, and a navy settee in the back.
To explore the insides of a few more bathing boxes, click here.  
How to Get One
James explained to us that, in order to purchase a beach box, you must live in the Bayside area and show up at an auction.  Put in a high enough offer, and you have a little hut!  The boxes seldom enter the market, however, and the prices have been reaching record highs.  Of course, this is due to the low supply and high demand of the iconic structures.  These days, you "need about 300 grand" to secure one, James mentioned!
He also revealed that he spends quite a bit of time in the oasis, relaxing and enjoying the view.  On any given day, only a few beach boxes are typically in use, and you'll probably find tourists posing on the porches of the rest.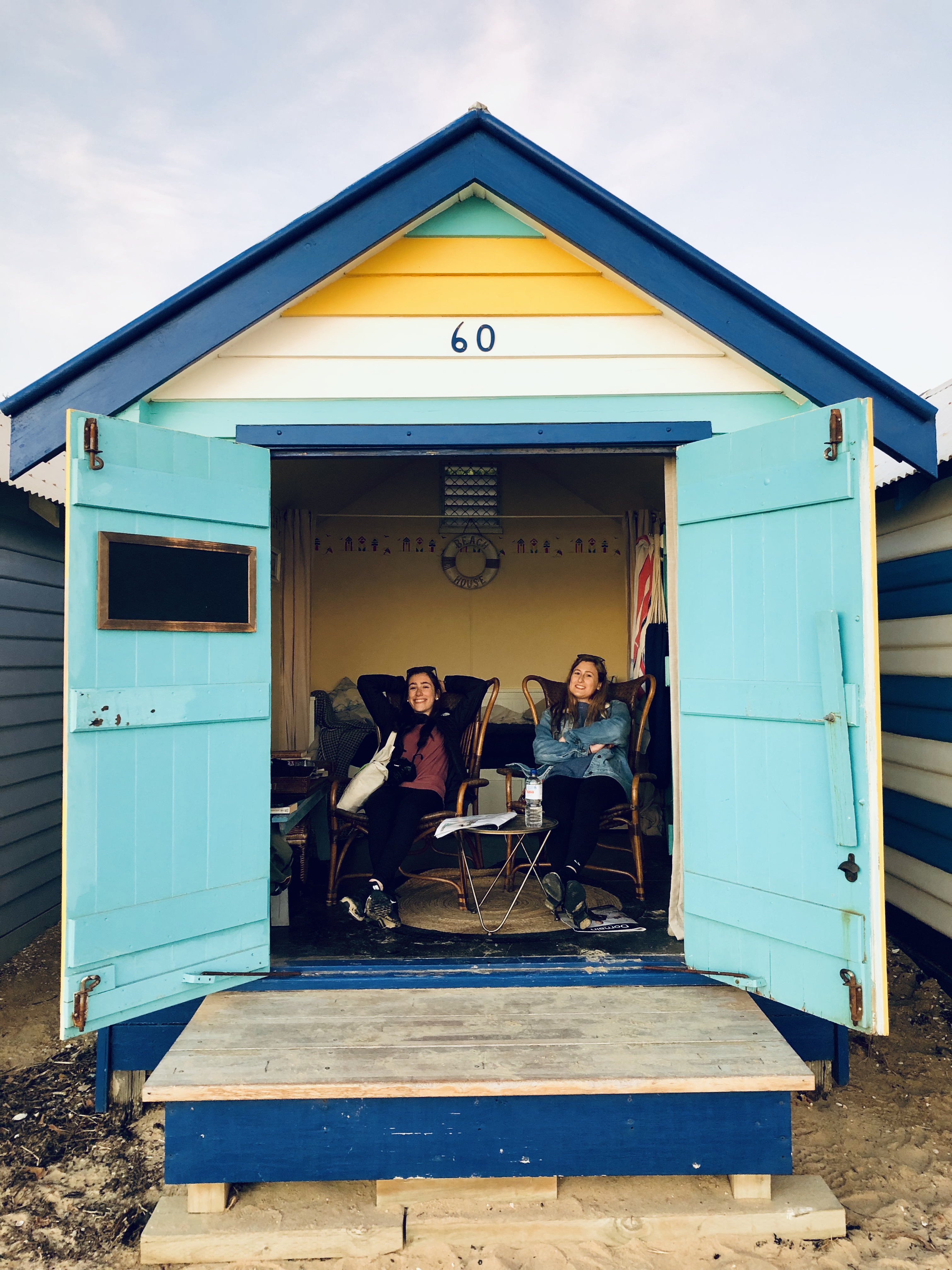 We got a little glimpse of what beach box life is like when James allowed us to check out his chairs for a few relaxing moments.  I can say first-hand it was pretty great, but would the view and convenience be worth over a quarter million bucks?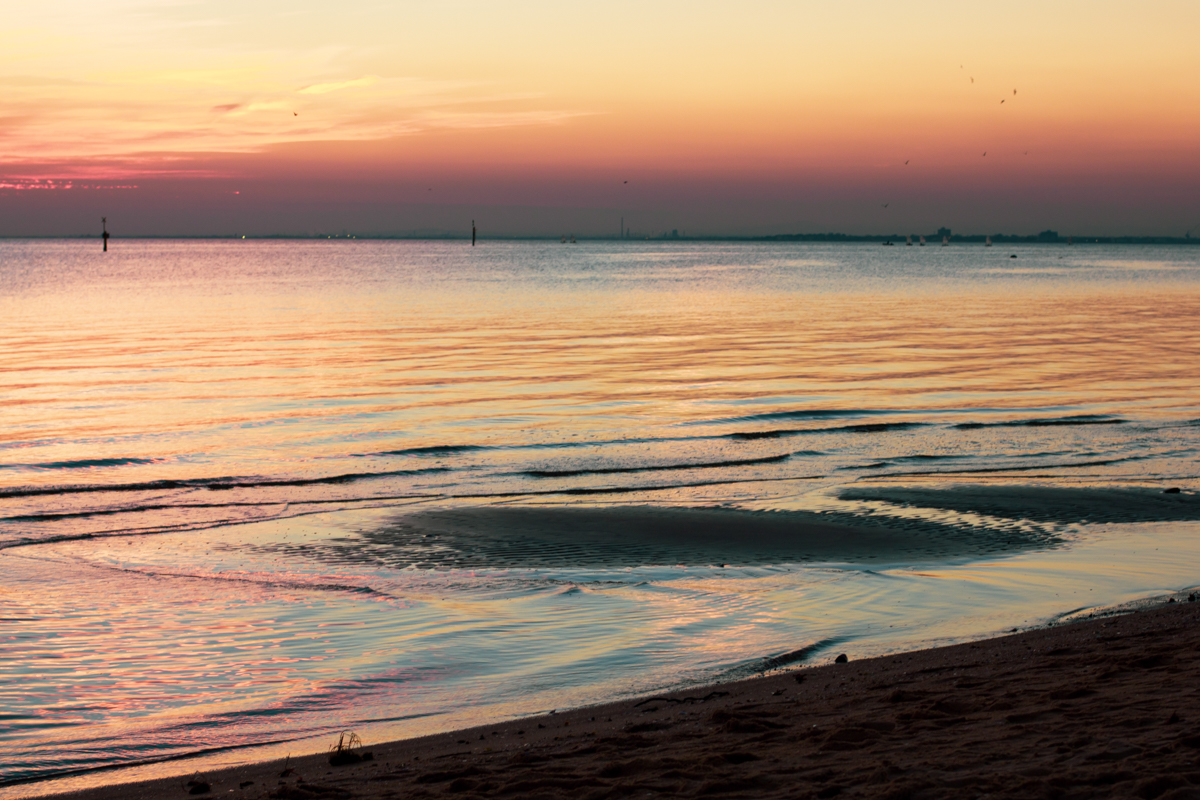 Just visiting?
Owning a beach box isn't very practical, unless you live in Melbourne and have quite a bit of extra money on hand.  However, taking a short trip to see the sights is certainly worth your time.
I highly suggest checking the weather and heading to Dendy Street within the hour before sunset.  This time, deemed the golden hour for a reason, is an incredible time to check out the boxes and get great photos.  It is less busy in the evening, as the afternoon beach goers have already left, and the view is absolutely gorgeous.  
Walk along the row of boxes, stopping to admire your favorites.  Perhaps grab an ice cream cone from the nearby stand and savor the moment.  Feel the ocean breeze against your face while you watch the sun drop below the horizon, reflecting against the water and leaving vibrant streaks of color painted across the sky.  
Friends enjoying a sweet treat at the boxes
For even more information on the Brighton Bathing Boxes, click here.
---
---