Top-Notch Ambiance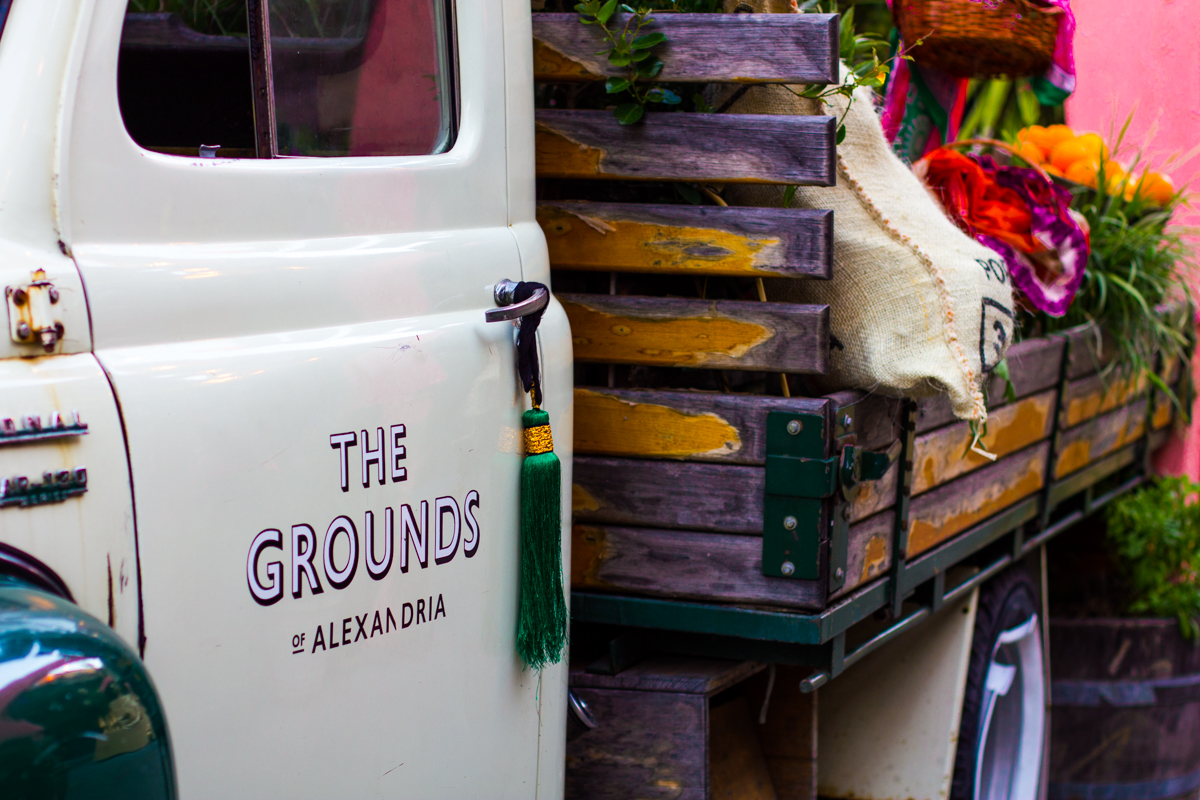 Rustic, aesthetically pleasing, and quite boho, are ways visitors describe The Grounds of Alexandria. With mosaic lanterns gently swaying in the breeze, arches covered in vibrant ferns, a canopy of bulb lights strung between roofs, and overflowing baskets filled with fruit, the sights are spectacular.
Vis-à-Vis Alexandria
It sounds amazing (and totally photogenic), but what exactly is the creative site? If you type it in Google, The Grounds of Alexandria is simply classified as a restaurant, but it's way more than that. It's truly a landmark located in the heart of Alexandria. The industrial suburb is dotted with warehouses and cute cafes, but the number one destination is definitely The Grounds.
The original concept was created by Ramzey Choker and Jack Hanna, two entrepreneurs whose mission was to create an elevated community experience, instead of just a place to eat. The cafe opened Spring 2012 on land that was first a pie factory and then a parking lot. Today, the Grounds are often filled with Sydneysiders and sightseers, many of them grabbing a bite to eat, laughing with family and friends, or marveling at the appealing walkways.
While You're There
Grab a Bite to Eat
Gauge your hunger level then decide where you want to go.  Check out one of the two coffeehouses for a quick bite, sit down for a meal at The Potting Shed, or devour a wood fire pizza from the Garden Bar.  You can even take a peek at the pastry chefs kneading loaves of bread in the bakery or pick up an irresistible treat from the doughnut stand.  Each spot has a vastly different vibe and delicious things to offer.
Say "Hi" to Harry
When you are finished stuffing your face like a pig, go see an actual one.  The pig, Harry Trotter, along with a few other farm animals call The Grounds home.  Who knows, the roosters might be saying, "G'Day mate" in clucks.
Check out the Flower Shop
To go along with all the beautiful vegetation, there is a florist, of course.  Buy some roses for a loved one, or simply enjoy the sweet smell of fresh flowers.  Perhaps even pick up a scented candle as a souvenir from the shop.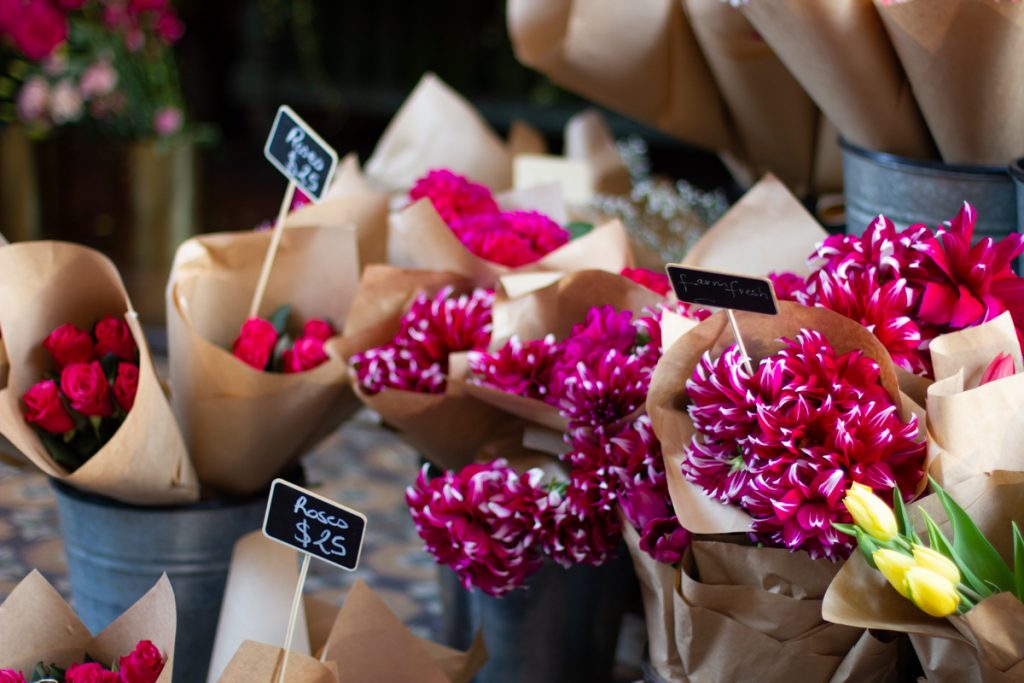 Attend an Activity
The Grounds has an extensive list of events, activities, and special exhibitions.  For instance, there are often live music performances and markets that take place on The Grounds.  You can also participate in classes, such as calligraphy writing or coffee cupping.
Currently, the garden is bursting with shimmering gold teapots, woven baskets overflowing with vibrant fabrics, and plush patterned rugs to make for an Aladdin-themed Oasis.  The gardens are ever-changing though, so be sure to look at the list of what's going on now here!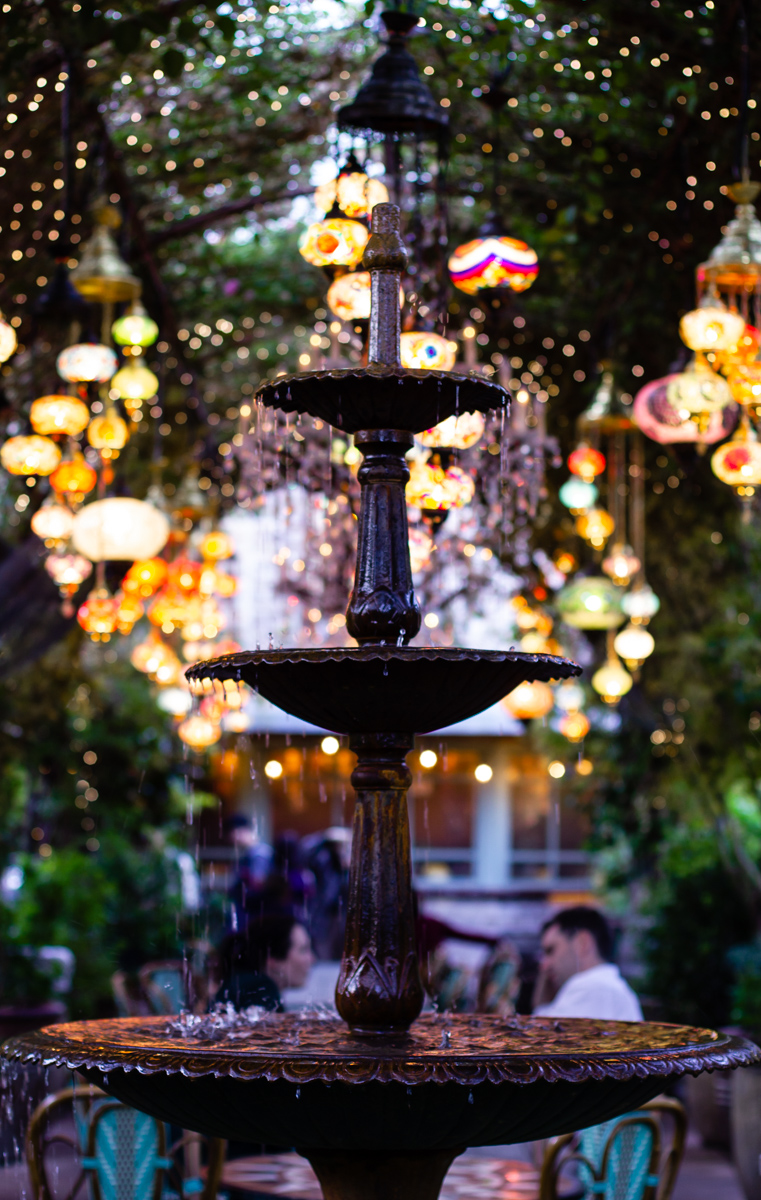 Pose for a Photo (or 20)
Last, but not least, pull out your best camera.  Everywhere you look there is a photo opportunity.  Smile in front of the entry archway, pose on a bench surrounded by beautiful garden scenery, or snap a selfie under the awning of vintage lamps.  Just be sure you have plenty of battery!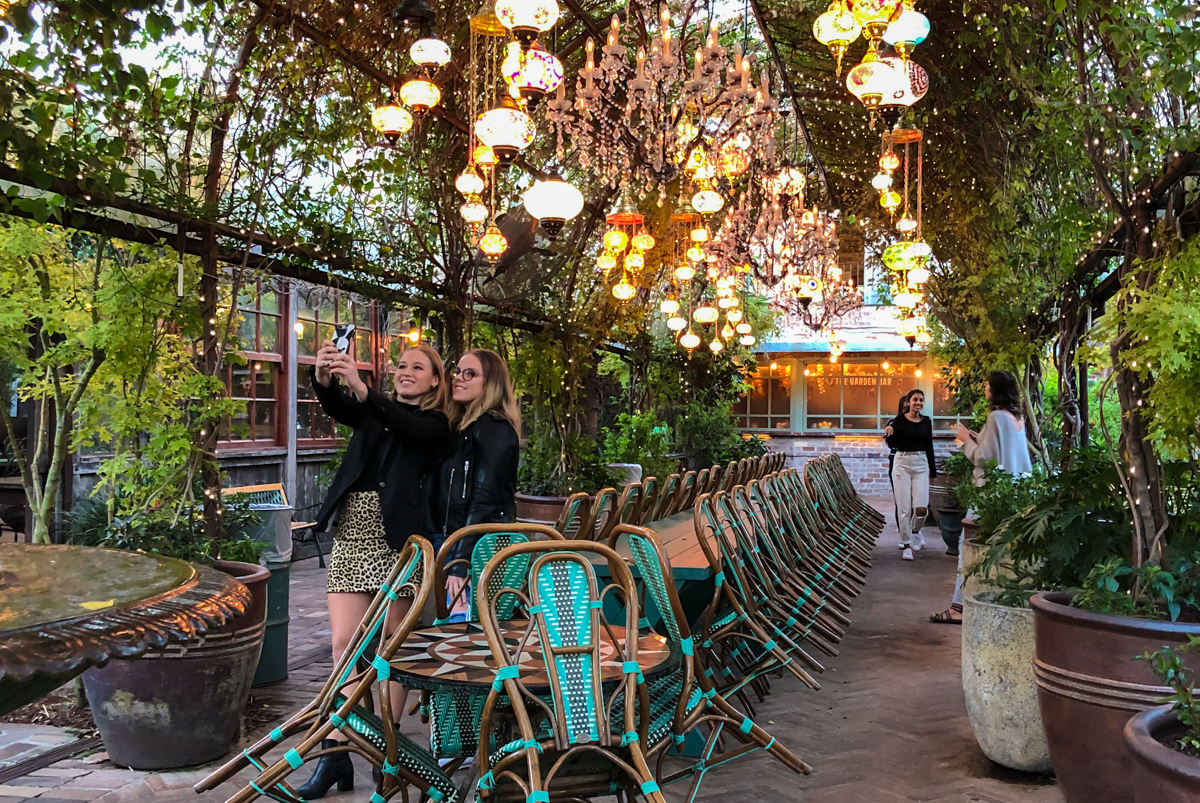 When to Go
Here's the short answer: whenever you would like!  The Grounds have something to offer morning, midday, and night.  Chose a beautiful start to the morning with cup of coffee, enjoy a satisfying lunch with friends, or relax for a romantic lantern lit evening.  Hop on the website, Facebook page, or Instagram (@thegrounds)  to see if any special events are coming up.
The Grounds traffic does vary, however.  Weekends tend to attract the largest crowds, especially during brunch.  So, you might want to expect a wait at The Potting Shed at that time.
A steady stream of people enjoy the area throughout the week as well, and one worker mentioned, "Usually the tables are almost all full." You can always count on others to be around, but the evenings are much quieter, without a doubt.  Another waitress explained that it is always an exciting place, and it can be chaotic at times, but quite peaceful and serene during others.
That being said, the ambiance varies immensely between day and night. During the morning and afternoon hours, nearly all the venues are open, and The Grounds is buzzing with excitement.  After the sun sets, the lights come on and everything begins to glow in a peaceful yet enchanting way.  One first time visitor mentioned, "seeing it at night was very capitaviting."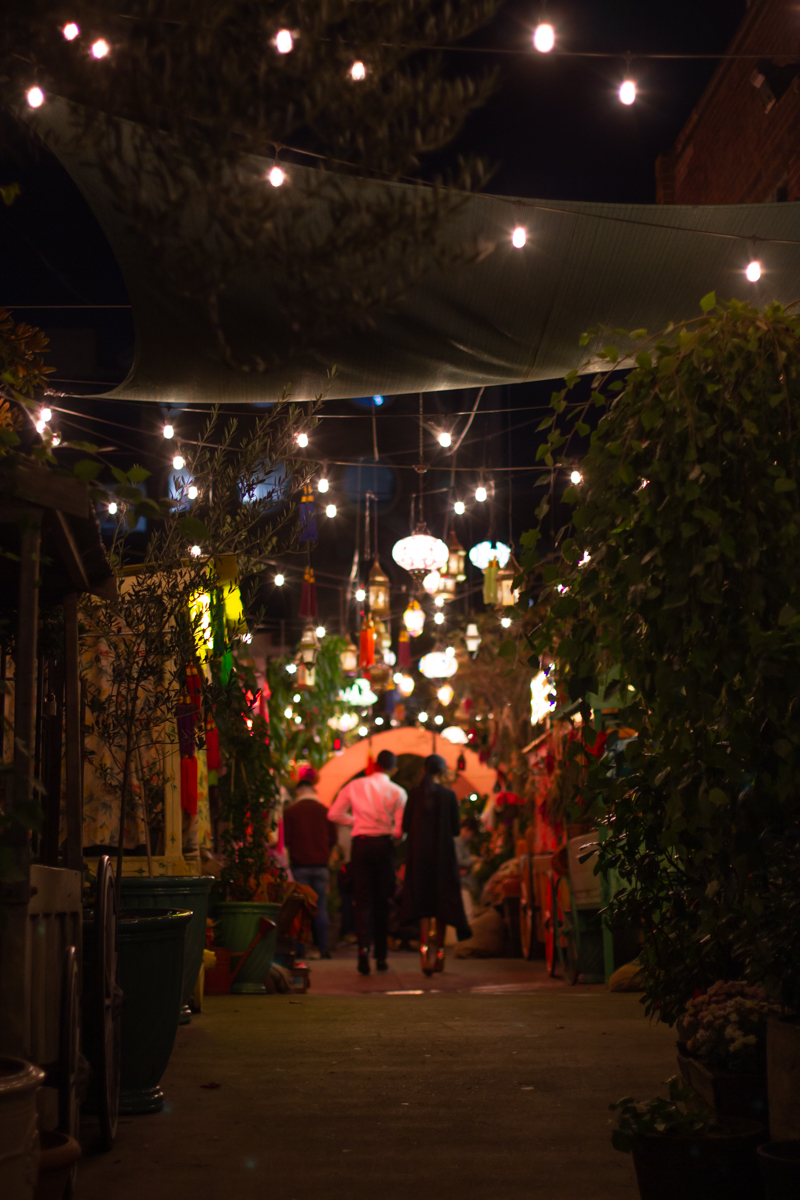 The People
In a suburb of an extremely diverse city, Sydney, you'll find people from all different walks of life at The Grounds.  You'll probably run into teenagers hoping to elevate their social media game, university students studying, and couples enjoying a lunch or dinner date.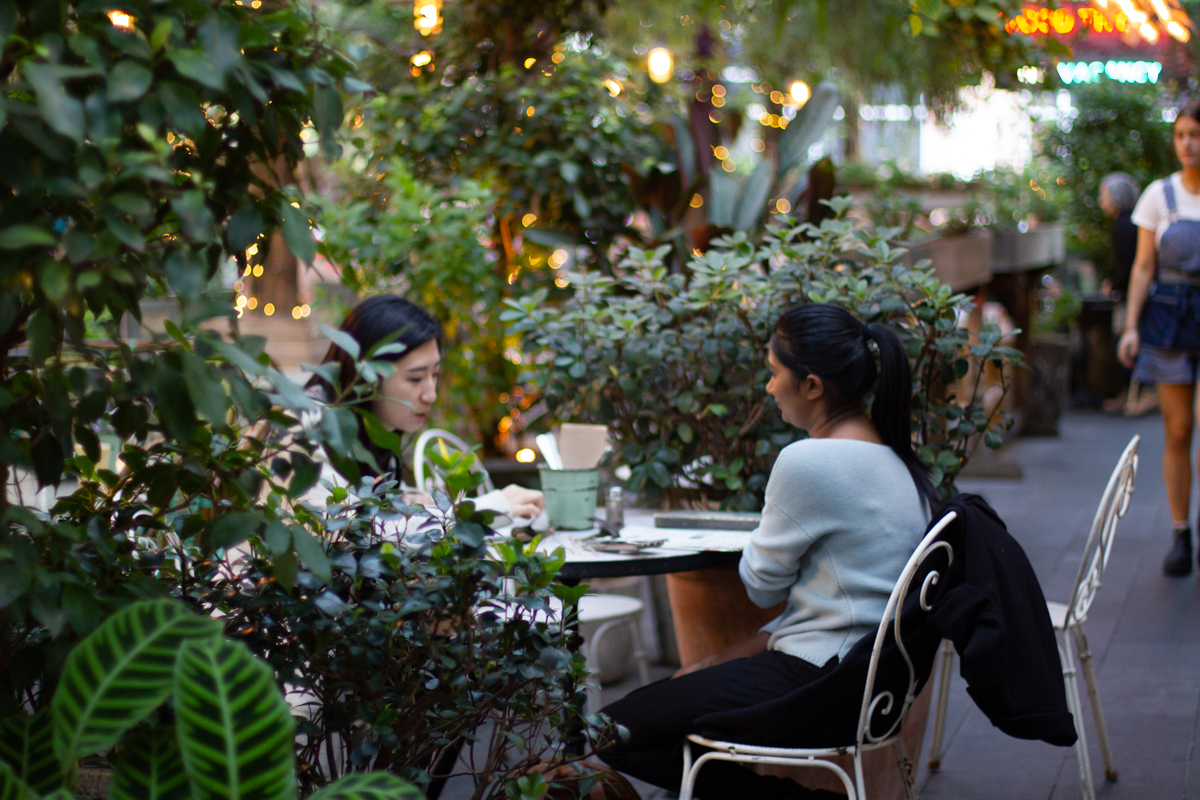 The great thing is, everyone can feel comfortable.  One waitress from the UK, currently in Australia on a work visa, mentioned how the staff welcomes everyone of all different nationalities, ages, and interests.
The friendly vibe is extended throughout.  Even a maintenance man, Ben, was smiling through his work.  Unsurprisingly, the gardening and upkeep is "absolutely constant, and it never ends." Despite this, Ben is dedicated to keeping The Grounds an "Instagram haven," as he put it.
Thanks to the friendly staff and well-kept grounds, it is a wonderful community destination that brings many different types of people together.  Both residents and tourists can appreciate the effort that goes into making the hidden gem an amazing place.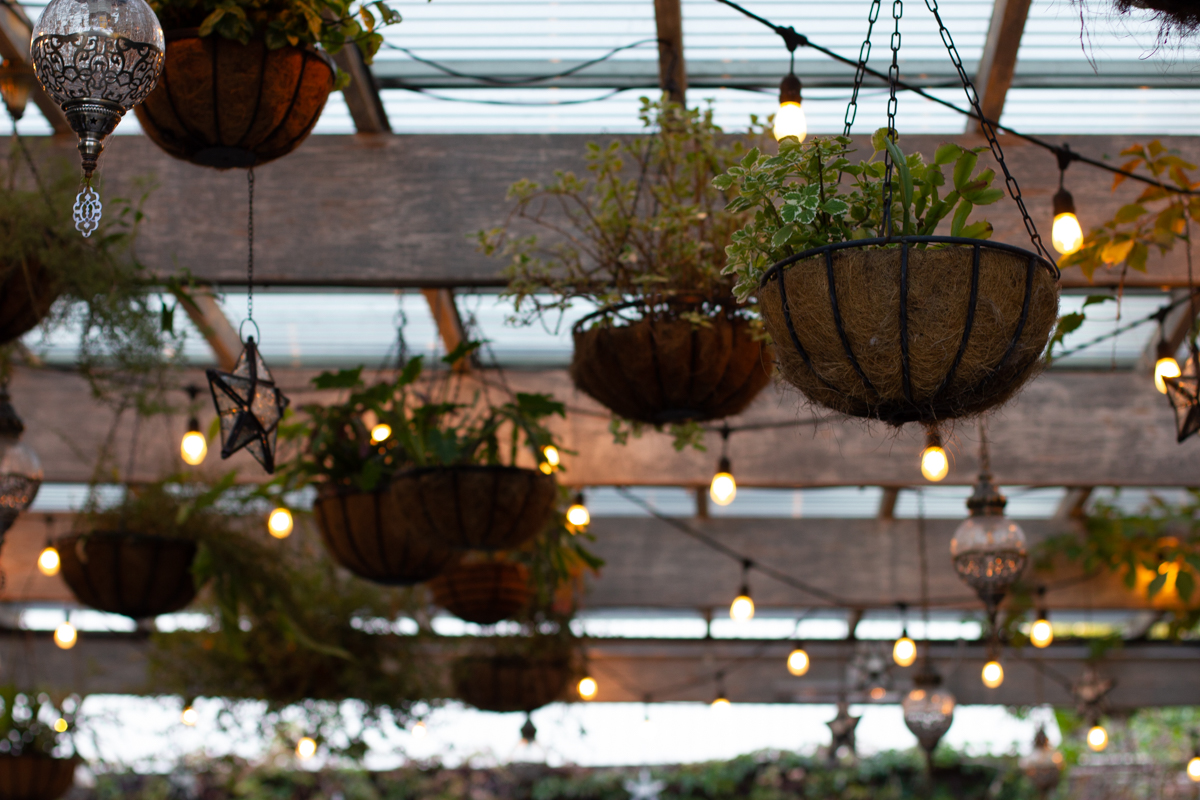 Hit The Grounds Running
One thing is for sure, The Grounds of Alexandria is a unique type of venue.  It's a restaurant, hangout spot, and photo shoot backdrop all rolled into one, and it should definitely make your to-do list.  The atmosphere is an experience in itself – just be sure to turn your good vibes on!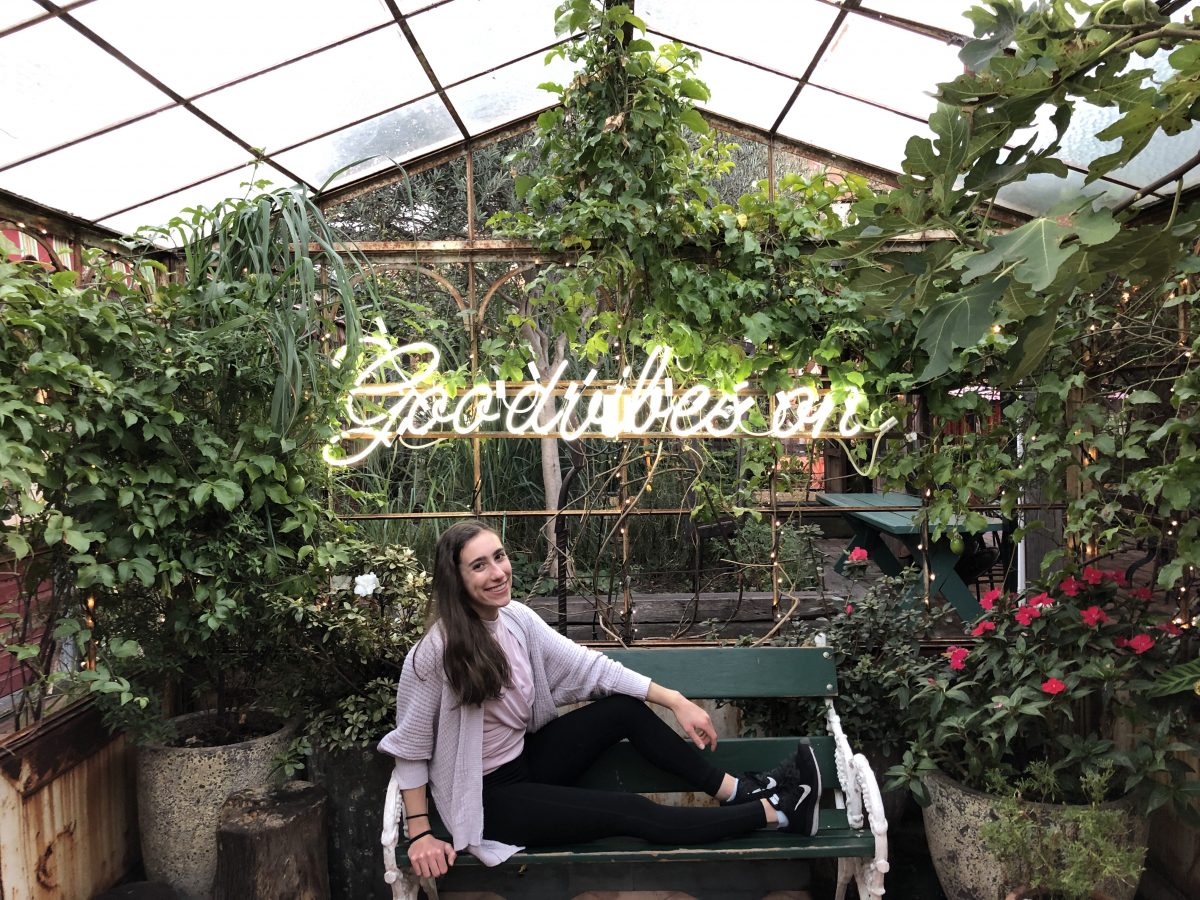 ---
---